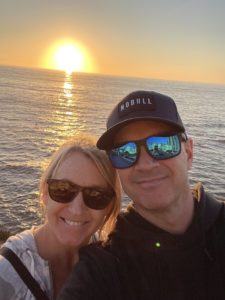 The problem with putting dates on website updates is that it becomes immediately clear when one is not keeping up with said updates. Ha ha. It's almost a year later – gah! Here is the catch-up list – most of the relevant writing happenings over the past year:
Published The Abyss on November 8th, 2020. Yay!
Re-edited, proofed, and re-published The Russian Assassin, The Attack, and The Hunt to better reflect my updated writing style and yes, remove some of the offending curse words.
Wrote most of the first draft of a novel with a spin-off character (yet to be announced).
Wrote most of the first draft of Endgame, book 6, of The Russian Assassin series.
Got burned out and took a few months off writing.
Sold our house, packed, put our stuff in storage, moved out.
Now, traveling to California, Park City, Michigan, and North Carolina on a walk-about while our new house is being built.
During that time, I also:
Was tested for COVID six times
Tested negative for COVID six times
Received two jabs of the Pfizer vaccine
Spent two weeks in Costa Rica
Had my first colonoscopy (everything is fine)
Test drove a Mustang GT and decided I didn't want to buy one
Stopped to pet every dog I ran across
So what's next, you ask? And more specifically, when will Endgame be published?
Realistically, Endgame will come out Q1 or Q2, 2022. While the first draft is mostly done, it needs a lot of work. It's my primary project this fall.
We move into our new house in mid-September, which will include a dedicated writing studio complete with a couch for naps
My goal is to make a couple of YouTube videos showing the new writing studio – stay tuned for that.
Meanwhile, thanks for being a reader!
Peace, love, and books,
Jack